Albassoon
From RadioWiki
(Difference between revisions)
Line 30:
Line 30:
 

She currently lives with a roommate who's a World of Warcraft junkie, although she keeps trying to make her a KOL convert, and 4 cats and two birds, who are frequently heard in the background of her shows.

 

She currently lives with a roommate who's a World of Warcraft junkie, although she keeps trying to make her a KOL convert, and 4 cats and two birds, who are frequently heard in the background of her shows.

 
 
−

Dollar Store makes infrequent visits into chat, mostly when KolMohDee is aroundm, since he named such.  If you see her in chat, make sure to say hi.

+

Dollar Store makes infrequent visits into chat, mostly when KolMohDee is , since he named such.  If you see her in chat, make sure to say hi

 
+

 

 
+

.

 
 
 

== Help me create my page ==

 

== Help me create my page ==
---
Revision as of 03:09, 14 July 2006
AlBassoon
Basic Information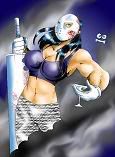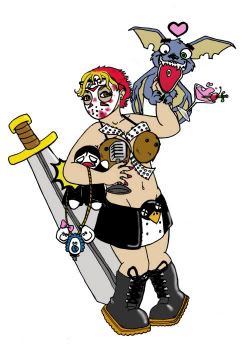 AlBassoon is a Radio Kol DJ and a chat moderator with shows on Tuesday afternoons from 4-6 and Saturday afternoon 2-4, US Eastern time.
AlBassoon became a KOL addict when her roommate left Radio KOL on one day. She made an account to see this thing her roommate was obsessing over, and quickly was hooked. In January 2005, she became a DJ for RKOL and then in May 2005 became a chat moderator.
Contact Information
Personal Information
Stats
Age: 24
Gender: female
Location: Herndon, VA
Pets: 4 cats and 2 birds.
Job: Barista for Starbucks
Education: George Mason University, [1] majoring in Communication, with a possible minor in Business.
Living Situation
She currently lives with a roommate who's a World of Warcraft junkie, although she keeps trying to make her a KOL convert, and 4 cats and two birds, who are frequently heard in the background of her shows.
Dollar Store makes infrequent visits into chat, mostly when KolMohDee is around, since he named such. If you see her in chat, make sure to say hi.
I am going to be moving in the middle of August. So I am going to be largely offline around that time.
Help me create my page
Make her page better and you could win a Radio Free Cap. Message her for details.