Albassoon
From RadioWiki
(Difference between revisions)
 

 

(26 intermediate revisions by 5 users not shown)
Line 1:
Line 1:
−

== AlBassoon ==

+
 
+

= AlBassoon =

 
 
−

http://images.kingdomofloathing.com/otherimages/customavatars/206500_2.gif  http://img.photobucket.com/albums/v506/albassoon/AlBassoonbyeLLasagnasmall.jpg

+
 
+

http://images.kingdomofloathing.com/otherimages/customavatars/206500_2.gif  http://img.photobucket.com/albums/v506/albassoon/AlBassoonbyeLLasagnasmall.jpg

 
 
−

AlBassoon became a KOL addict when her roommate left Radio KOL on one day.  She made an account to see this thing her roommate was obsessing over, and quickly was hooked.  In January 2005, she became a DJ for RKOL and then in May 2005 became a chat moderator.

+

AlBassoon a Radio DJ and a chat moderator .

 
 
−

She is currently in school full-time, persuing a degree in Communications, to try to get a job working for a radio station to actually get paid to continue doing the things she loves.

+

She , , a for a .

 
 
−

She currently lives with a roommate who's a World of Warcraft junkie, although she keeps trying to make her a KOL convert, and 4 cats and two birds, who are frequently heard in the background of her shows.

+

to a of

 
 
−

== Mislabelled Trax ==

+

== ==

 
+
 
+
 
+
 
+
 
+
 
+
 
 
−

AlBassoon loves to play requests, and in the early days of her shows, received many requests that were mislabelled, sometimes very badly so.  And so when it came time to come up with a show name, Mislabelled Trax seemed to fit.  While she hasn't actually done an entire show of mislabelled tracks, it may come sometime soon.

+
 
 
−

For a long time, AlBassoon's shows were only heard in the wee hours of the morning on the weekends, but thanks to some schedule changes, she's now heard during the day on Tuesdays from 4-6pm EST and Saturdays from 2-4pm EST.

+

AlBassooninto , .

 
 
−

There will be more themed shows coming up soon, as Allie now has free time for the rest of the summer to actually think about things show related.

+
 
+
 
+
 
+
 
+

,

 
+
 
+

for .

 
+
 
 
−

'''Commonly heard on AlBassoon's shows'''

+
 
 
−

Green Day, Disney, mashups, pop, punk, and most everything in between.

+

and .

−

 

+
−

 

+
−

== Help me create my page ==

+
 
 
−

Make my page better and you could win a Radio Free Cap.  Message her for details.

+
 
+
---
Latest revision as of 21:06, 30 September 2011
AlBassoon has retired. Her last show was on the 17th of December 2009.
[edit]
AlBassoon
[edit]
Basic Information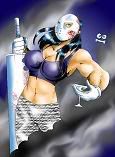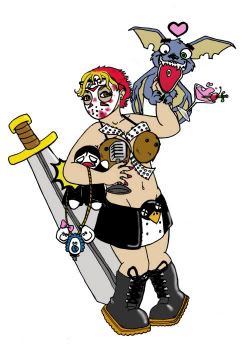 AlBassoon is a Radio Kol DJ and a chat moderator with shows on Wednesday evenings from 9-11pm EST and Sunday evenings from 6-9pm EST.
AlBassoon became a KOL addict when her roommate left Radio KOL on one day. She made an account to see this thing her roommate was obsessing over, and quickly was hooked. In January 2005, she became a DJ for RKOL and then in May 2005 became a chat moderator.
(wow I need to do a better job of editing this)
[edit]
Contact Information
[edit]
Donating
Contests on "Mislabelled Trax with AlBassoon" are supported by your in-game donations. Please send donations to her Prize Multi, DJAlBassoon (#535161). Thank you for your support!
[edit]
Personal Information
Age: 26
Gender: female
Location: Arlington, VA
Pets: Cat named Jack
Job: Administrative Assistant for an IT company, Intern for XM Radio [1]
Education: George Mason University, [2] majoring in Communication, with a minor in Business
[edit]
Help me create my page
Make her page better and you could win some cool stuff. Message her for details.