Lehks
From RadioWiki
Lehks
Lehks retired from RKOL. His last show was on August 12th, 2008.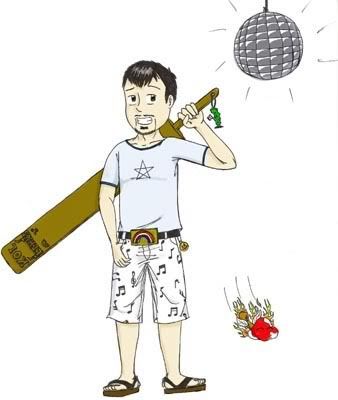 He's a teen-pop sensation;
He's the dirtiest gay boi in the world;
He's the dirty drill sargeant;
He turned your boyfriend gay;
He made your daddy leave your mama
and He's the homo to holler for when you're in trouble.
He's LEHKS!


--> Lehks' Wish List <--


Contact Lehks
KoL: Lehks (#229057)
KoL Prize Multi: Tiny Plastic Lehks (#473472)
AIM: LehksKoL
gmail: Lehks.KoL@gmail.com

A Taste of Rainbow
A Taste of Rainbow is Lehks' flagship show. When listening to A Taste of Rainbow expect an eclectic mix of music that is liked by Lehks. A heavy emphasis is placed on queer - or queer-friendly - artists, though that's not all that is played.Requests can be sent in, of any sort, but depending on the day, Lehks might not get to it or he might not like it and will never play it. A good rule of thumb is this: If you're going to be upset if you send it in and it doesn't get played, don't send it. It's far better to contact Lehks in-game and ask for a song via blue message/chat PM.

Contests
sKOLtergories - Lehks' newest contest, it's a take on the classic boardgame "Scattergories" but with a KoL twist!

Rebus Contest- Lehks shamelessly ganked this from Riboflavin's "Meat, Lose, or Stall" contest, because it was too awesome not to.

The Flavor Contest - With a name like "A Taste of Rainbow," you'd have to expect that each show would be a different flavor, depending on Lehks' mood and listener interactions. Therefore, every A Taste of Rainbow ends with the Flavor Contest. Lehks' will prompt listeners to send in a blue message/chat PM with the name of the flavor they think the show most matched. (Examples: The Flavor of Aural Sehks, the Flavor of Getting Down with the Jickness) Lehks chooses the one he likes best, and the player who sent it wins a Radio Button Candy. On occasion, runners-up win a gift, and, of course, on-air recognition.

Misc. Yeah, there are other contests too (like the I Heart Lehks Contest.) Listen, and wait for them, they tend to be unique.

Commonly Heard on A Taste of Rainbow
Imogen Heap/Frou Frou, Cher, Jonny McGovern, Justin Tranter/Semi-Precious-Weapons, S.J. Tucker, ABBA, Ace of Base, Alanis Morrissette, Girlyman, The Scissor Sisters, The Butchies, The Postal Service


Aural Sehks
Aural Sehks is Lehks' Dance/Pop/Electronica/DirtyNasty show. Lehks wakes you up with Sehksy tunes. Requests are taken, but only if they fit the dance/pop genre, and only if Lehks likes them.

Contests
Fuck Me, Lehks - Lehks will ask listeners to send in ONE blue message/chat PM with the phrase "Fuck Me, Lehks." The first 16 people (or however many Lehks' decides on that day) will be rolled either in chat via chatbot or with Lehks' snazzy real-life d16. (Yes, d16. It's hot.) Winner will generally recieve a half million meat, but this is subject to change if announced.

Commonly Heard on Aural Sehks
Imogen Heap, Cher, Jonny McGovern, 4 Strings, Conjure One, Ace of Base, Anastacia, AQUA, DDR music, Madonna (before she sucked,) 20 Fingers, Club Anthems, Dance Remixes


Rock Out with your Cock Out
Rock Out with your Cock Out is a special by-request show. Consisting primarily of rock requests, Rock Out with your Cock Out is scheduled on a case by case basis. A male loather will gmail Lehks a cock pic and request a show. He will work with Lehks to schedule a show. (Ladies! Don't worry! If you get a male loathers permission to send Lehks a pic, or if you have a man in your life who would permit you to take and send a pic, that will work, too!) One quick thing though, you must absolutely be 18 or older. No exceptions. Seriously, we don't want to get Lehks arrested here, okay?

On a suggestion, I'll be open to other genres if that's more your thing... "Punk Out with your Junk Out," "Rap Out with your Cap Out," "Twang Out with your Wang Out," and such.



LindyPea's Rock Out with billabong's Cock Out - TBA
Rock Out with trineficous maximous' Cock Out - TBA
Rock Out with NovaKnight21's Cock Out - TBA
Rock Out with Manhoho's Cock Out - TBA
Rock Out with N3RD's Cock Out - TBA


Past Rock Outs:
Rock Out with DrakoShade's Cock Out - Saturday October 28, 2006
Rock Out with MephistoWolf (and Neko_Chan314)'s Cock Out - Saturday April 14, 2007
Rock Out with GoodEats' Cock Out - Tuesday, May 1, 2007

Rock Out with Anovadea's Cock Out - Saturday, May 19, 2007

Backseat Driving
Backseat Driving is another special occasion show. Lehks will occasionally invite Loathers to host an A Taste of Rainbow or Aural Sehks. This hosting is done via recorded .mp3 voice files and songs the Driver chooses. Lehks will "backseat drive" by playing the files. The driver will choose the music, the talking segments, and can even run contests! Keep an eye out here and in the Radio KoL forums for any upcoming Backseat Driving shows!


Show Times
A Taste of Rainbow: Sundays 2pm-5pm Eastern
Aural Sehks: Currently incorporated into A Taste of Rainbow.


Disco

You're my disco.
Lehks, however, is the most disco of them all, and shows this through his massive disco ball collection. Check out his display case to see just how disco he is, and to see his disco shout-outs. You can make yourself even more disco by sending him disco balls (or chintzy disco ball pendants) to add to this collection. He just loves that. :-D


Listener Comments
Lehks saw this section on another DJ's page, and wanted to have his own ego trip. Write shit about him here. kthxbye.

Mendin - Lehks also is a singer, and has a hot voice. It's ADH-level of vocalhotness, but with less breasts.

Ms. Gwyn - I love Lehks. He's my Disco :D
Lillith - How do I love Lehks? Let me count the ways. One, he makes me secretly chair-dance to music I pretend I don't like. Two, he's sweeter than a suitcase of kittens. Three... well, I'm sure I could go on, but this is secretly a last will and testament. <3 <3!
Veter - Well. What to say about Lehks. He's a DJ. A sexy DJ. Not that I'm gay! He's just got the "Sexier than me" factor.
Evileness/ Firiona/ Disco Ball Farmer - My accounts all agree that Lehks is quite the sehks. Secks. Sex. He is the Ultimate Disco. :3
Aeralis - Lehks is uber-fun, and sweeter than a sack of sugar-coated... sweet things. Puppies maybe, or perhaps some sort of rare jungle fruit. Anyway, <3 Lehks.
Jezebelle - Oh Lehksy, you're so sexy! I would give Lehks some lathagna anyday! I love him for being my gay boyfriend. I love him for making me "OMG I REMEMBER THIS SONG!" I love him for not being afraid to be himself and say whatever the hell he wants. Lehks.Is.Amazing. I <3 you!
Guru - If Lehks was a pizza he would be the most uber pizza ever.
MiniGates - Lehks is awesomeness, coolness, and a monkey in one tightly packed package! You be a square if you did not listen to him.
Fineldar - Lehks is like my heterosexual life partner, except more gayer.
Lihnks
OutMusic.com
Grinder's list of music played on Radio-KOL

Artists
S.J. Tucker
Justin Tranter / Semi-Precious-Weapons
Girlyman
Imogen Heap
Jonny McGovern - the Gay Pimp